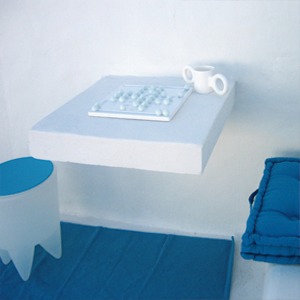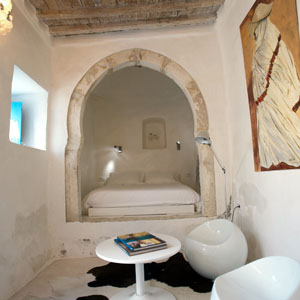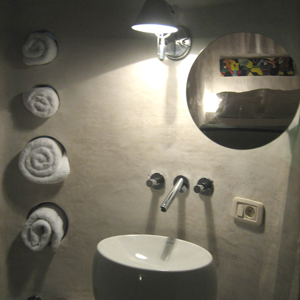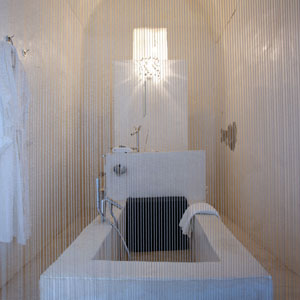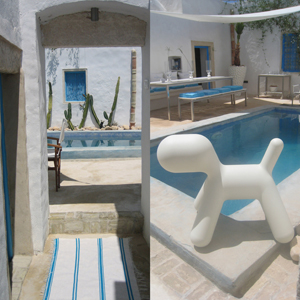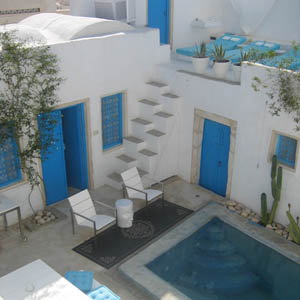 More images to entice all senses and this time to North Africa. Dar Babine, a 4 bedroom boutique hotel is located on Djerba in Tunisia - and this seriously chic 'maison d'hotes' is packed with promise.
"Brilliantly white walls and cerulean blue doors impart a Greek island feel; the designer furnishings are straight off London's Kings Road. It's a bold design choice for this dusty village, where the locals travel by donkey and dress in long tunics, but the juxtaposition of the 2 is somehow cool.

Belgian owners Isabelle and Gérard spotted the houch (ancient house) in Er Riadh's medina 2 years ago; since then they've been carefully restoring it to be just so. It's been a true labour of love and today it's beautifully spruced up with a tranquil roof terrace, a small indoor pool and 4 stylish bedrooms. Antonio Citterio (of The Bulgari in Milan) has helped with design; Philippe Starck dressing tables sit alongside Descamps bathrobes. If you're looking for an indulgent retreat and an insight to the culture that surrounds you, book in while you can. We think it's going to be a big hit"
quoted directly via I-Escapes listing.
I spotted Dar Babine on another lovely and inspiring blog called 'Lifestyle from Amsterdam to Marrakech'. Blogger Melanie el Hadded also run a webshop called
El Ramla Hamra
with her husband. Here you can find all kinds of original Moroccan interior accessories and home wares - all sourced personally by Melanie and her husband. Her blog has lots of really beautiful images and I am sure to visit again.
I-Escape